Dallas Business Journal
DFW Airport opens two video game lounges
Travelers have another way to pass the time at DFW Airport with two recently opened video game lounges.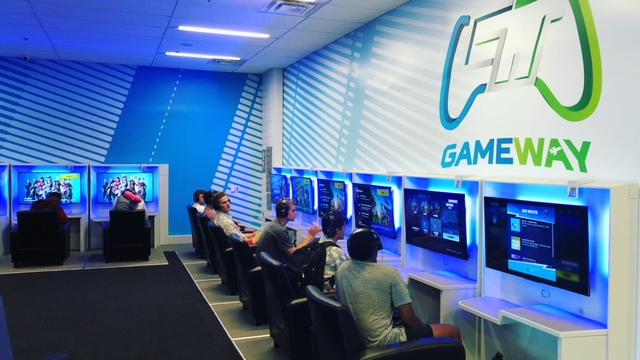 The location at Gate 16 in Terminal E opened on Friday, June 30, and the other location at Gate 42 in Terminal B opened three weeks ago, said Jordan Walbridge, president of Gameway, the company who built the lounges.
DFW is the first airport Gameway has opened a lounge in, and, to the best of Walbridge's knowledge, these are the first-ever gaming lounges in an airport.
"Gameway's purpose is to make airports entertaining," Walbridge said. "With 50 percent of Americans playing video games at least three hours per week or more, and the average gamer being a male who's 35 and a female in their mid 40s, this demographic perfectly aligns with who is traveling at the airport."
The Terminal E lounge has 22 stations and the Terminal B lounge has 14. Each station comes equipped with an Xbox One that has 19 preloaded games, including Fortnite, FIFA 18, Call of Duty WWII, NBA 2K18, Minecraft and Rocket League. Users can log onto their own accounts, or play on Gameway's.
Customers pay 42 cents per minute or $20 for unlimited gameplay.
Following its first lounge in DFW, Gameway is in talks with airport executives throughout the country for more locations. The whole process with DFW Airport took about a year and a half to complete, Walbridge said.
"DFW was aggressive in wanting to be the first in the world to bring this to market," he said. DFW Airport declined to comment on its new gaming lounges.
North Texas is quickly becoming a hotbed for video gaming. Mark Cuban recently said that outside of Silicon Valley, he doesn't think anywhere else in the country is seeing as much growth in esports, or competitive video gaming.
"Literally, like oil and gas was a big industry for the region 50 years ago, 100 years ago, esports can be a fueling industry for this region," Cuban said in May. "And I don't know necessarily that a lot of our business leaders truly understand that."
Cuban's thoughts came after the city of Arlington decided to invest $10 million into remodeling the Arlington Convention Center into a venue called Esports Stadium Arlington. The venue will have seating capacity for up to 1,000 spectators.
Read more at: https://www.bizjournals.com/dallas/news/2018/07/02/dfw-airport-video-game-lounges-gameday.html